Our Background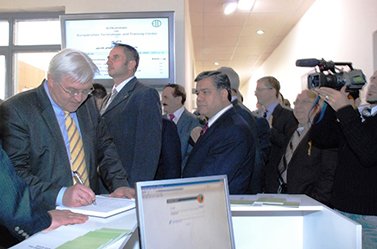 Dr. Frank Walter Steinmeier (German Foreign Minister) at the ETTC opening
The European Technology and Training Centre (ETTC) was opened by the German Foreign Minister Dr. Frank Walter Steinmeier in February 2009.One year later the Vocational Training Centre (VTC) was opened with support from the British Government and started to provide training for returnees and local job seekers.
The ETTC was founded as an implementing organization of a German NGO, active in Iraq since 2005.
The ETTC is an independent, locally based and internationally oriented organization, registered as a non-profit nongovernmental organization in KRG.
Since 2009 the ETTC has contributed to the democratic and economic development of the Kurdish Region by providing development and migration projects and offering a wide range of training,
workshops and other events, mainly in cooperation with international partners.
ISO 9001:2015
ETTC Implemented Quality Management System (ISO 9001:2015) according to International Organization for Standardization (ISO) and certified by an International German company GUTcert on 3rd October 2019, to demonstrate the ability to consistently provide services that meet customer, regulatory requirements and to demonstrate continuous improvement.

ISO Certificate in English
ISO Certificate in Germany
The management activities of the ETTC are observed
by a Board of international experts.
The CEO of the ETTC is Mr. Jihad Zero, from Iraq, who has been with the ETTC since the beginning and who has past work experience with different kinds of international NGOs and the United Nations.
The chairperson of the Board is Dr. Dirk Jankowski, CEO of a German engineering company from Bavaria and Manager of a building-safety project in Erbil and his deputy is Mr. Gary Kent, Director in the UK of the all party parliamentary group on the Kurdistan Region, third board member is Mr. Volker Wildner, former head of the German Liaison Office for Trade and Industry in Erbil and fourth board member is a former Swedish Ambassador Jan Axel Nordlander a Diplomat in the Middle East and Asia.
Based on this structure the ETTC is able to provide proper, well-monitored, and well-evaluated services to the reintegration and Development projects.
In Germany, the ETTC is supported by the ETTC e.V. Germany, an association of people who are deeply interested in the development of the KRG and the ETTC.
ETTC, Germany e. V.
ETTC Purposes
---
Capacity Building
Capacity building measures for governmental and non-governmental structures to promote good governance, a democratic culture and the respect for human rights.
Humanitarian Aid activities
Provision of emergency support measures for conflict victims such as IDP`s and refugees and encouragement of integration and qualification measures for vulnerable groups.
Promotion of intercultural relations
Promotion of intercultural relations, in particular with sensitivity to the perspective of minorities and prevention of violent conflicts.
Environment care
Encouraging responsible use of natural resources and care for the environment, including disaster awareness.
Good governance
Improvement of competencies, good governance and the rule of law of public and private management
Business Start-up Developments
Supporting the development of enterprises and business start-ups, job placement, adapted training and counselling.
Promoting Employment Organisation and implementation of measures
To promote employment, with the target to improve the chances of job seekers, including returnees to Iraq, in employment.
Human Resources Measures
for capacity-building in human resource development.
International Standards for adult education
Supporting the development of international recognized standards for adult education/qualification measures.
Qualification measures Organisation and implementation of qualification measures
with the goal of improving the quality of management structures and the chances of job seekers in employment.
Technology Transfer
Supporting the organisation and implementation of conferences, meetings, workshops to enhance technology transfer between European and local enterprises.